AUDIO
No ordinary iPod speaker dock
VISO1-ipod-speaker-dockp-logos
Inspired Design

iPod speaker dock award Best iPod DockPure and simple: the NAD VISO 1 is the best sounding smart music streaming dock for iPod in the world. It's a digital music system that combines the innovative digital audio technology with renowned NAD performance, simplicity and value. Integrated Bluetooth means you can wirelessly play your music from your iPod, iPhone, iPad, or any Bluetooth-enabled smartphone, tablet, or laptop. The NAD VISO 1 is inspired design married to some of the most sophisticated audio technologies in the world today. The result is a new way to experience your mobile music collection. With the NAD VISO 1, every detail of your digital music is clear with all the warmth and emotion of a live musical performance. It's room-filling, heart-pounding, and soul-stirring sound.

Simple, elegant. Timeless. The NAD VISO 1 looks at home no matter what the décor. Its sweeping curves not only look gorgeous, but also enhance acoustic performance.
Easy as 1, 2, 3

The NAD VISO 1 is compact and easy to enjoy right out of the box. No messy wires or complicated setup. The innovative precision 'ring' design allows you to dock and operate your iPod in a completely natural way, without compromising Apple's well thought out ergonomics. After plugging in the power cord to a household outlet, simply dock your iPod in the rotating cradle, select your music, and press 'play'. The supplied remote handset allows you to start or stop the music, skip tracks and adjust the volume from your listening chair.
Wireless Options

Integrated Bluetooth aptX wireless high fidelity reception allows any Bluetooth enabled device to seamlessly integrate with the NAD VISO 1. This allows wireless integration of the iTouch, iPhone and iPad, as well as Android and Windows-based smartphones and tablets. Virtually any handheld device can stream music to NAD VISO 1 for great convenience.
Astounding Performance

NAD VISO 1 not only will play louder than other iPod docks, it plays with an uncanny smoothness and accuracy. Music seems to float in 3 dimensional space with vocals and instruments clearly defined and true to life. You've never heard your iPod sound this good!
NAD Direct Digital

This awesome little system came from our undeniable passion for clean, pure, vivid music. At the heart of the NAD VISO 1 is our proprietary Direct Digital amplifier technology—the same technology introduced in our top-of-the-line M2 Direct Digital Amplifier, and critically acclaimed worldwide. The NAD VISO 1 offers two major advances in iPod music systems: it plays the music stored on your iPod in its native digital form, completely bypassing the limiting audio circuits of the iPod, and the processing power inherent in Direct Digital technology allows the speakers to be optimized for sonic performance. We teamed up with our award-winning sister company, PSB Speakers, to make the NAD VISO 1 the ultimate compact music system and dock for iPod with reduced cabinet resonances and enhanced acoustic radiation giving it the same musical authenticity and acoustic performance that has set PSB designs apart from all others over the last 40 years. Completely software-defined and controlled, the NAD VISO 1 Wireless Digital Music System is the ultimate performance in a brilliant design.

The best sounding Smart Music system in the world. Period.

Features:

Made for iPod Music System.
NAD Direct Digital DAC/Amplifier - 35 bit/844kHz, 0.005% THD
Frequency Response - 33Hz – 28kHz (-6dB) Anechoic, 50Hz to 20K
Bluetooth aptX wireless high fidelity receiver works with any Bluetooth device.
Optical digital input accepts up to 24/96k music from external devices like TV, Disc Player or Media Streamer.
NAD Direct Digital amplifier eliminates all analogue circuitry and offers very high efficiency and low power consumption.
Bi-amplified system with digital crossover and bi-amplification for lowest distortion and widest frequency response.
Music from iPod in digital domain bypassing all analogue circuitry.
Component Video Output sends iPod Videos to your HD TV while playing the sound track.
Docking Cradle can rotate 90 degrees, allowing for 'portrait' or 'landscape' orientation of your iPhone or iTouch.
30 pin iPod connector charges your iPod while transferring audio and video signals to the VISO 1.
USB port for software upgrades.
IR remote control.

Regular: $799.99
Qty. Available: 2
AUDIO
Clean, powerful sound with lots of bass punch.

Customer Ratings
Audio Quality
5.0
Design
4.9
Features
4.5
Value
4.9
Overall Rating:
5.0
(19 ratings)
10 reviews
Rate and review this product
Most recent customer reviews
Awesome unit!

Compared to the flimsy cheap plastics of a certain over priced/over rated "soundock". The quality of this unit is solid. Does not have any Read full review
Best audio purchase in last 10 years.

I went from a full out Yamaha system with JBL tower and surround speakers ($6K) - this connected to my iPod/iPad/PC brings it home Read full review
JBL On Stage 400p Dock for iPhone / iPod (OS400PBLK)

Clean, powerful sound with lots of punchy bass. It's what JBL audio components have been delivering for more than 60 years. The JBL On Stage 400P system puts all that experience to work in a loudspeaker dock for your iPod and iPhone - or any music source with an audio jack. Please Note: iPhone sold separately.
Product Features
Four Odyssey full-range drivers and an Atlas woofer in a single compact enclosure bring accurate, high-output sound to virtually any bookshelf or tabletop. And a smart remote puts you in control of your music library from across the room.

iPod and iPhone compatible
Plays other devices with a 3.5 mm jack
Touch volume controls
IR remote with iPod and iPhone navigation
Digital amplification and sound processing


Regular: $269.99
Qty. Available: 2
AUDIO
Panasonic SC-SP100 iPod Speaker Dock
Regular: $149.99
Qty. Available: 3
AUDIO
YAMAHA TSX-120
Enjoy richer, more powerful music from your iPod. Listen to portable audio players and FM radio, too. The TSX-120 is a compact, convenient and attractive way to add musical enjoyment to your bedroom. Versatile enough to play a wide variety of music sources, it's sure to keep you entertained. Set it to wake you to your favorite music in the morning, then use it as a handy place to deposit things you need, like eyeglasses or keys. And with its real wood top panel, it will add an attractive touch to any interior.
Regular: $499.99
Qty. Available: 2
AUDIO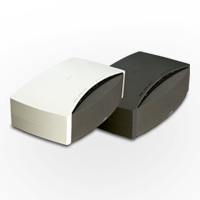 Soundcast SOU-ICS310 Speaker
Unleash Your Audio with SpeakerCast, an indoor wireless stereo speaker.You don??? t need a large bulky speaker to get unforgettable sound. The SpeakerCast is a table top wireless indoor speaker that provides premier audio quality, while taking up no more space than a few stacked magazines.
Regular: $399.99
Qty. Available: 4
HOME AUDIO
Sharp Sound Bar System /w Subwoofer HTSL50
Product Description:
The HT-SL50 system is all you'll need to complete your home theater experience. Immerse yourself in a room full of sound with this 2.1 channel super slim sound bar plus active subwoofer system. The HT-SL50 soundbar system features a unique super slim sound bar design that is compatible with and blends with most 32" class home theater environments. You'll be amazed by the big sound that comes from this small, sleek sound bar home theater system.

Product Features:
•

Total Output Power: RMS 100W (25W per channel + 50W Subwoofer)
•

Digital Amplification System
•

Super Slim Soundbar - 26mm in Height
•

Sleek Design - Super slim design for easy mounting (wall/inside rack/front of LCD TV/Beside TV)
•

Simple Connection - via TV's headphone / HDMI (ARC) Terminal.
•

Audio Return Channel - No need for extra cables connected to your display. ARC allows audio to be sent from your display to your receiver through the same HDMIÆ cable already being used to send audio and video to your display.
•

Volume Control - via your TV's remote control.
•

ENERGY STAR Qualified
Regular: $399.99
Qty. Available: 2
CANTON AUDIO
Home-Cinema-System with active subwoofer system
Type Home-Cinema-System with active subwoofer system
Engineering Principle Front: 2-way closed system
Center: 2-way closed system
Surround: 2-way closed system
Subwoofer: Bandpass system

Music power handling Front: 100 watts
Center: 100 watts
Surround: 100 watts
Musical output Subwoofer: 100 watts
Frequency response Front: 120...25.000 Hz
Center: 120...25.000 Hz
Surround: 120...25.000 Hz
Subwoofer: 38...140 Hz
Crossover frequency Front: 5.000 Hz
Center: 5.000 Hz
Surround: 5.000 Hz
Subwoofer: 80...140 Hz (adjustable)
Woofer Front: 1 x 80 mm (3''), Aluminum finish
Center: 2 x 80 mm (3''), Aluminum finish
Surround: 1 x 80 mm (3''), Aluminum finish
Subwoofer: 1 x 165 mm (6''), Aluminum finish
Tweeter Front: 1 x 15 mm (1''), aluminum
Center: 15 mm (1''), aluminum
Surround: 15 mm (1''), aluminum
Nominal Impedance 4...8 ohms
Dimensions (WxHxD) Front: 9 x 9 x 10 cm
(3.5'' x 3.5'' x 3.9'')
Center: 19.5 x 9 x 10 cm
(7.7'' x 3.5'' x 3.9'')
Surround: 9 x 9 x 10 cm
(3.5'' x 3.5'' x 3.9'')
Subwoofer: 23 x 36 x 42 cm
(9.1'' x 14.2'' x 16.5'')
Weight Front: 0.8 kg
Center: 1.5 kg
Surround: 0.8 kg
Subwoofer: 10.3 kg
Special Features Front:
Coax system
Magnetically shielded
Wall brackets included

Center:
Magnetically shielded
Wall brackets included

Surround:
Coax system
Magnetically shielded
Wall brackets included

Subwoofer:
Adjustable crossover frequency
Adjustable bass level
SC-technology
Switchable phase adjustment
Regular: $1099.99
Qty. Available: 1
HDTV
PANASONIC TCP55VT30
TOP OF THE LINE
Regular: $3599.99
Qty. Available: 1
Go to Google